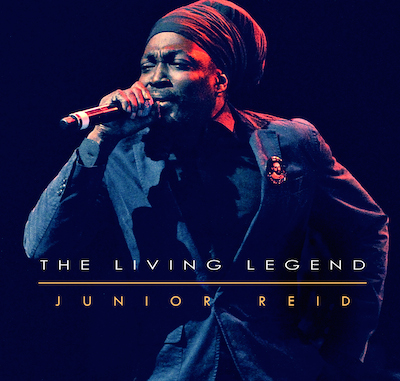 International recording artiste Junior Reid will be releasing his long-awaited studio album, 'The Living Legend' on August 25th.
Originally slated for another venue, Reid will launch the album with a listening party at Crescent Court at 1A – 1B Lindsay Crescent, St. Andrew. There will be a live band and performances from Junior Reid and his superstar friends. 
"We plan to stream the album release party, it's going to be a great night of entertainment, we're going to have Juju Blood, Yung JR, Julian Marley and others," Junior Reid said. 
Junior Reid: The Living Legend, will be the artiste's 17th album and is set to be released online for sale on platforms such as iTunes and his website, 
www.juniorreid.com
, and all leading music distribution outlets. This is his first album in 11 years.
The 19-track album will feature songs like the pop-influenced 'Love You Back', 'Never Let You Go', 'This Generation' featuring Sizzla,  'Same Boat', 'Dancehall City' featuring Blaw Minott and Yung JR, 'Now Is the Time' and 'Never Too Rough' featuring Julian Marley. There are also collaborations featuring Vybz Kartel. 

Some of the producers who have worked on the album include Lynford 'Fatta' Marshall, James of Machete Records, producer Jervis 'Spugy' Clarke, 'Prekeh' and Junior Reid himself. One of Junior Reid's sons, Adoney Reid produces the sparkling track, 'Jah Love You Always'. Another outstanding track on the album is 'Better Must Come', featuring Wadda Blood, which is produced by engineer Kevin Scarlet and Junior Reid. 
"We went for an original roots rock feel to the album, however, the lead single, 'Love You Back' has a pop-commercial feel, that is why we shot a video for the international market. The video will be released a week before the album is officially released," Reid said.