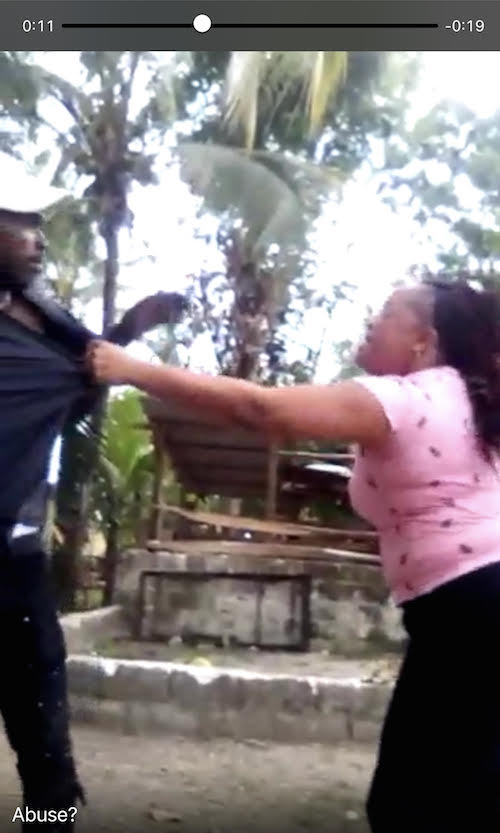 A woman administered a merciless machete-wielding beat down on a hapless male in a video that went viral on social media yesterday.
"We are aware of the video, but there is no active investigation because we are not sure if it is a long time video, outside our jurisdiction, but normally when a video like that goes on social media, people would reach out to say they know the persons involved but that hasn't happened," Senior Superintendent Stephanie Lindsay, Head of the Jamaica Constabulary Force's Corporate Communications Unit, told Loop News.
"Nevertheless, assault is assault, and we would take the same steps whether it was a female, male or child committing the act," she added.
In the video, a buxom, big-boned brown-skinned woman is seen first accusing a man, 'Machel', of "carrying her name to Llandilo". The man, dark-skinned, several inches taller than her, and with several rings on his fingers and a few gold chains around his neck, feigns ignorance to this act. Uncowed, she begins to slap him with the lass, punctuating each slap with a rhetorical question, 'why yu carry mi name go Llandilo?', while he attempts to block the blows. He protests with a clueless 'mi no do it', but she continues to rain blows on him 'yu (expletive deleted) do it'. As she beats him, the woman's daughters attempt to calm her down before the video ends.
This is not the first time that a video with an altercation between the opposite sexes has gone viral. Last March, a woman who was captured in a video being punched repeatedly by her boyfriend indicated to the police that she would not be pressing charges against him.
In a news release, the police's information arm said officers in Westmoreland intervened after the video of the altercation – which reportedly occurred in the Farm Pen district of the parish – went viral.
Both individuals were taken to the police station where they were questioned.

The woman declined to press charges but the Restorative Justice unit for the parish, as well as conflict resolution personnel were asked to intervene.