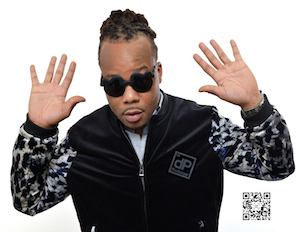 Spiky Music Group recording artiste Da Professor is getting a great buzz stateside with his latest single, "I Love Myself', which is getting a major push on major FM radio stations in the USA.
"The single, "I Love Myself" is the first single of the trilogy release followed by "Anything is Possible" and "Rock Star".
"When a person "loves" his or herself, that person is invested with confidence and self-worth. Because of a lack of self worth, too many of our young girls are abused and then discarded by older predatory men, too many of our young men are co-opted into gangs and lose their lives carelessly," the US-based Da Professor explained. 
He added  that there is "an ugly cycle of abuse where these young men also become the perpetrators of domestic violence".
"We have to stop the abuse, it is a crisis of self-worth," the former lead singer of the Inner Circle band said. 
The single and music video were released on February 14th, 2015. The video has already racked up over 150,000 views on youtube. The single is also the anthem representing Stop the Abuse Foundation founded by Spiky, Da Professor and NFL player Terry Kirby, who played 11 seasons for the 49ers, Raiders, Buccaneers, and Cleveland Browns. . 
"The foundation's mission is to raise the public's awareness of the 'well-hidden-in-the-shadows' truth about the existence and instances about domestic violence issues through music. We recently visited two high schools in the US to spread the message to let teens know they can become free of their abusive or violent situation. I am seeking partners in Jamaica to do the same," he said. 
The Stop the Abuse Foundation, LLC strives to achieve these ends by distributing the funds received from various sources to partner with organizations that specifically and physically aid victims of domestic violence and abuse.
The "I Love Myself" single is the first of an expected trilogy release followed by "Anything is Possible" and "Rock Star".
"If you love yourself, that's when "Anything becomes possible", the message within the music of the second single.  Becoming your own "Rock Star" is the result.The music video is also the first of the trilogy releases.  When the three videos are played in sequence a short film is created," he said.   
He can be contacted via Twitter @jetsetprofessor.