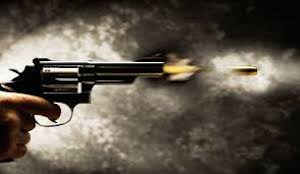 The grisly murder of Constable Leighton Hanson, who was assigned to the St. Andrew North Division, has shocked the nation. The episode began on a coaster bus destined for Spanish Town. Two eyewitnesses told Loop News how the incident unfolded that fateful day, Friday, April 28, 2017.
"Bwoy it was like drama a unfold. De yute come pan de bus as it reach Constant Spring Road. Mi only ere wen de ductor say him fi go up offa de step and de bwoy draw a knife and start punch up de doctor till one side a him face fat up," one eyewitness said.
Passengers in the bus began to scream, telling the driver to stop the bus. The driver attempted to intervene and save his colleague from knife-wielding man but was forced to "run for his life" when the man attempted to stab him. At this time, all hell broke loose on the bus. 
"Mi jus see people start jump through de windows. De man jus a swing de knife and a cuss some whole heap a bad word. Wen de police hold him and a carry him to the service vehicle, de bwoy jus wheel round n grab on to the policeman gun and dem tussle, him squeeze off one and the policeman jump back, and then him fire one shot inna him head. U wah see the policeman partner tek foot!" the passenger recalled.
Police reports confirm that Constable Leighton Hanson was responding to a robbery on the bus that plies Spanish Town to Half Way Tree and upon taking the man to the service vehicle ,a tussle ensued and he was disarmed and shot and killed with his own service pistol.
A Jamaica Defence Force soldier who was passing and observed what was happening, shot the man who later succumbed to his injuries.
Commissioner of Police George Quallo condemned the shooting. 
"It is unfortunate that while performing his duty to serve, protect and reassure the Constable was met with such cruelty and callousness," the Commissioner said
Quallo praised the members of the Jamaica Defence Force (JDF) who reportedly intervened as the incident unfolded.
 "I applaud you for summoning courage in the face of danger and taking the necessary action to prevent more lives being lost," he said. "Actions like these underscore the continuing partnership between the JCF and the JDF and should serve as a reminder to criminals that the security forces stand united in the fight for a safer Jamaica