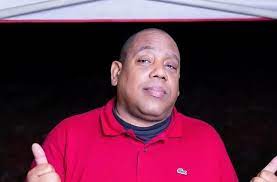 Popular broadcaster and FAME FM DJ Arif Cooper suffered a seizure and died suddenly early this morning while playing at an event.
Mr. Cooper was playing at a party at the Ranny Williams Entertainment Centre when collapsed. Attempts were made to resuscitate him but he was unresponsive.
He was taken to hospital but was later pronounced dead.
Arif began DJing in 1991 at house parties dances, nightclubs, and eventually, international festivals, and major international dancehall events.
He became a producer and founded Fresh Ear Productions in 1998 working on the development of 2 Hard Records.
In 1998 he joined FAME FM in the capacity of broadcaster/radio disc jockey where he held the position until he died.
Arif was the son of musician and musical educator Michael Ibo Cooper.