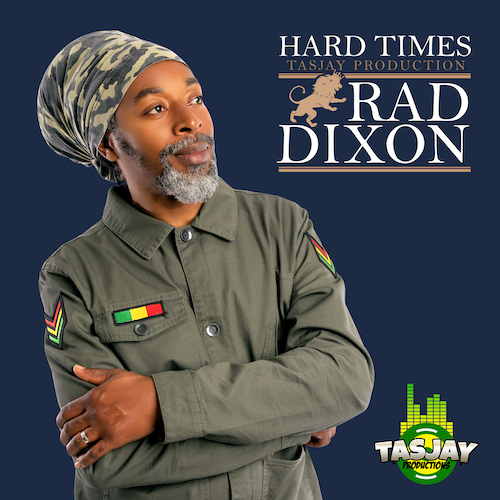 Reggae singer Rad Dixon is amped up about the rave reviews so far for just-released first album, Hard Times, produced by Toronto-based Tasjay Productions. The album was released on January 1, 2023.
Dixon has come a long way from the individual who first stepped into the music with the dangerous-sounding monicker, R Rated.
"Life is about changes and complexity and it is a testament to my journey to have created a complex album which is filled with hidden depths that will require numerous listens to unlock them all," Dixon told bounce876.com.
Dixon's genre-bending style of reggae still carries powerful messages that reflect Rastafarian ideals
"The lead song, 'Times Are Hard' carries an important message about facing the hard times many of us and our youths are finding ourselves in today," Rad Dixon said.
The album was released one year after Rad Dixon dropped his debut four-song EP.
On the title track, Times Are Hard, Rad Dixon cleverly enlists the legendary Luciano for a triumphant song that magically transports the listener to the front row of a live reggae concert with the two artists performing, their voices in perfect unison, while you sway and forget all the hard times in your life.
Dixon also has duets with Talee on Right Portion and goes solo on True Love, Mama's Love, On And On, and Tuff Life.
Mama's Love is beautiful dedication to our special mothers while the more sombre sounding On and On invites reflection on the meaning of one's life in the vastness of an uncaring universe. Rad Dixon's words on On and On feel like a supportive hand reaching out to someone that has taken huge blows in life and giving them the strength to stand up to find another day.
Message music like Jah Never Sleeps celebrates true Rastafarian values on the solid roots rhythm and serves as a contrast to the playful spontaneity of "Reggae Vibes" with its groovy bassline and unleashes a euphoric sing-along chorus.
Rad Dixon is not afraid to step outside the box as shown by the genre-bending production values on 'Break My Heart' which delivers and urgent and timely message over an understated soft guitar and saxophone.
"I have a lot of things to say, and I am holding nothing back in 2023," he said.
According to a statement from Dixon's producer, Tasjay Productions, "The songs on the album see the artiste exercising his experimental creativity while maintaining recognisability as an authentic reggae artiste. What sets Rad Dixon apart from other artistes is his ability to feel relatable and listening to his songs feels like meeting with him in person. This is a modern but still soulful album which deftly traverses the line between urgent messaging and laid-back feel-good reggae music."
Dixon, who lives in South Florida, is from Manchester where his recording career started in 2000 as R rated. Last January, the Rastafarian artiste released the four-song EP, DJ Treasure Music Presents Best Reggae Lovers Rock Covers.
Several of Dixon's songs, including Baby Don't do It and Make it Right, have charted well on ethnic charts in Toronto and South Florida.