In a series of deleted posts on Instagram, Abihail Myrie claimed that her father, Buju Banton strangled and kicked her out of their family home. She commented that he abused all his children after posting a WhatsApp conversation with her sibling who claimed to be choked by their father when a bike key was stolen.
Myrie was reported missing this evening by major news publications however she has remained active on social media throughout the day denying the rumors surrounding her disappearance.
Abihail tweeted that the news of her being missing is in fact a ruse orchestrated by her sister Jodiann and her father to overlook the claims of abuse. She further stated, "if anything happens you all know where to look", "they do this to anyone who speaks out" and "they are trying to kill me".
Tasha Rodney, Banton's girlfriend made a chain of tweets debunking Abihail's claims as ludicrous and that Buju has the right to remove an unwanted guest from his premises even if it's his prodigal daughter who has repeatedly embarrassed him on social media and constantly seeks attention. Rodney stated that Banton has repeatedly refused to communicate with Myrie and must get a restraining order against her because if the claims were true, he must've been seriously provoked.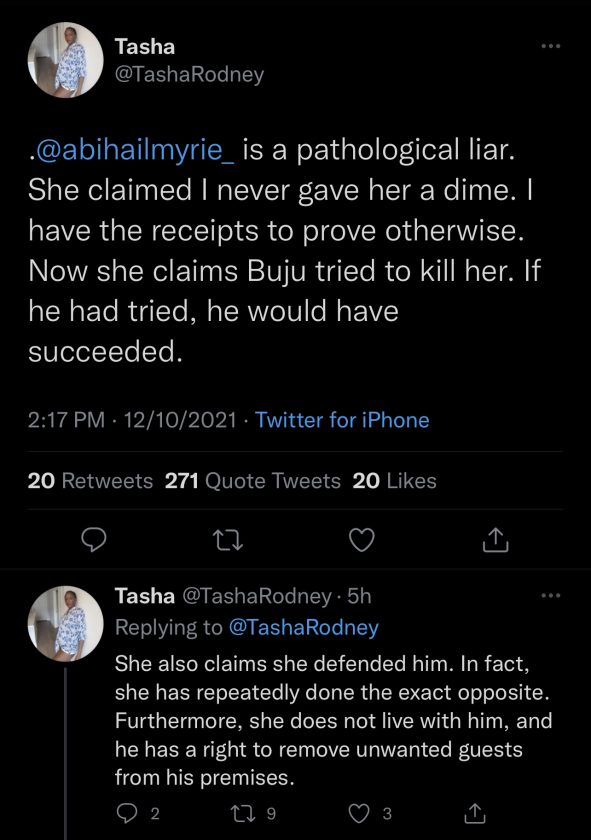 In response to Tasha's tweets, Myrie said "weh big pussy Tasha seh? Me never done u already?", referring to the argument between the two women last year on Twitter.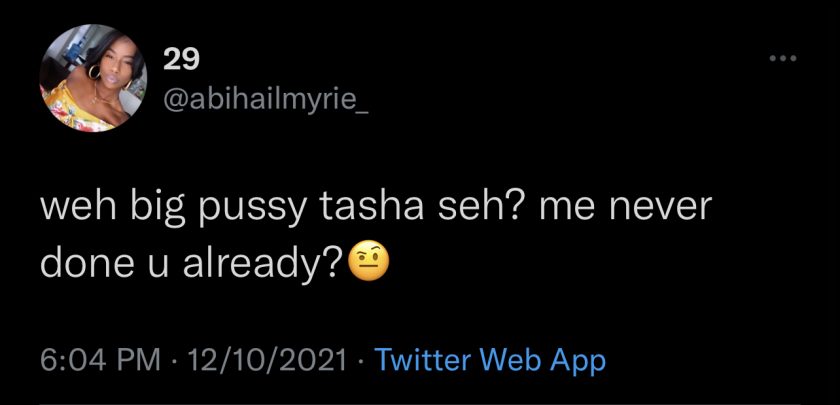 Myrie also got into heated arguments with a few more twitter users who have called her out on her vicious behavior online.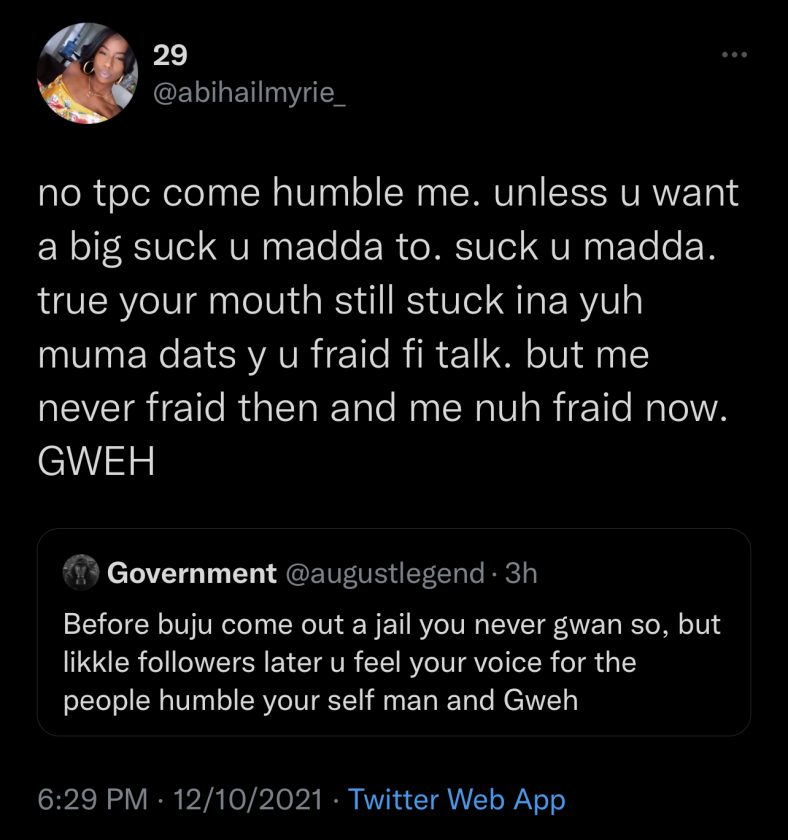 She responded with "suck u madda" and retweeted a photo of one of the user's baby that captioned "Can't believe I created someone so perfect" after expressing that the user is ugly in real life and on the inside.
The user then called Myrie a "crack" baby in reference to the rumors surrounding her drug abuse in which she responded that she "is a nice bloodclaat crack baby."
Myrie continued to tweet "are you guys seriously gonna wait till I'm dead to believe me?" and a user replied "u kinda scaring me ngl". Myrie quoted the tweet stating that it was indeed a scary situation. She then showcased her flair of dark humor by mentioning that she would like to be buried with cocaine.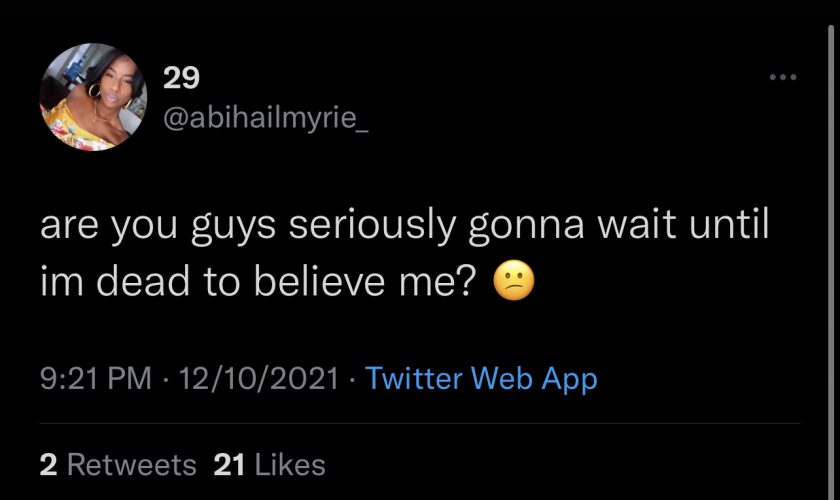 Myrie shared another photo of the bruise from the alleged assault on her twitter page and provided evidence that the event transpired at Banton's house.
Many users urged Abihail to keep her family's private business off social media but she stated that she had to post her truth because of the police report made by her family. She also questioned her father for staying silent on the news of her disappearance and mentioned that he is actively planning her murder.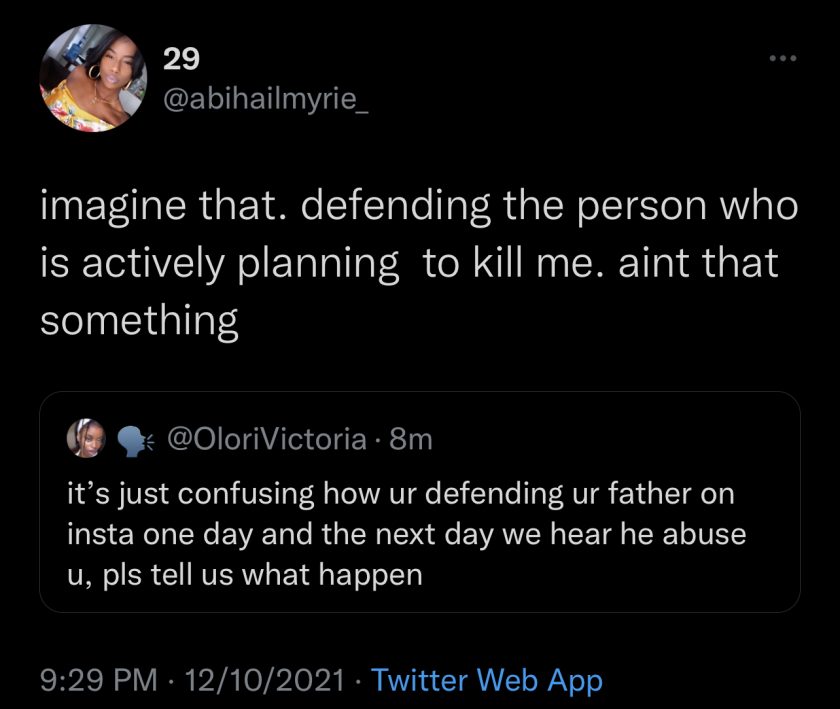 According to the Jamaica Constabulary Force, Abihail Myrie is still considered to be a missing person until she makes an appearance at police station.
SSP Stephanie Lindsay, head of the Constabulary Communication Unit, has said that the police still consider Ms. Abihail Myrie to be missing despite a letter circulating online from the Maurice McCurdy law firm repudiating reports that she is missing.
"Abihail Myrie is still on the Missing Persons log because she has to make herself available to investigators so that they can verify that she is indeed OK, and then her name will be removed from the Missing Persons log," Lindsay said.
The letter penned by the law firm said : "Miss Myrie is concerned about the report and would like to assure the public about her well being. She is in direct communication with her mother, Lorna Strachan. The police has been advised of same."
Her lawyer said Ms. Myrie will present herself to the police tomorrow.