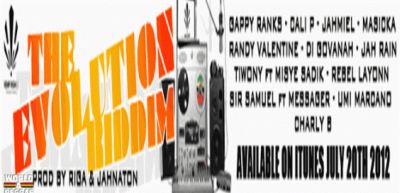 Hemp Higher Productions has a hit on its hands with the release of the Evolution rhythm which has a United Nations feel with artistes who are pulled from a variety of countries all over the world: France, Jamaica, Guadeloupe, and even Haiti.
As the name indicates, this project reflects an evolution of reggae music and introduces a selection of some of the best young artistes out there, from Jamaica and abroad! The rhythm leads off withUK dancehall ambassador, Gappy Ranks, who dropsa song for the ladies in his unique singing style. He croons: "Treat her like a lady", as he serenades women in a deliciously sweet love song.
Guadeloupe-born heavy hitter Cali P also delivers the goods with the syrupy-sweet Sweetest Thing, a song carved in reggae oak and dedicated to the love of his life, his daughter. He uses his brilliant recording style to bring across a message that every parent will be able to relate to.
Red-hot rookie Masicka has been raising eyebrows with his unique metaphors and witty deejay style. His inclusion on this compilation introduces him to the European market and his plaintive, Why Mi a Work? impresses from start to finish. Another artiste to watch for is Jahmiel who declaresFly Again, an inspiring monster of a song that focuses on the hardships faced by most people even while he attempts to motivate them to never give up, to rage on even against insurmountable odds. "Fly again," he exhults, "fly again."
This excellent production is rounded out byUK's rising reggae star, Randy Valentine, Trinidad's brilliant and talented Umi Marcanoand French artisteCharly Bwho all lay down sweet love songs which are guaranteed lady-pleasers, that will spike the temperature in the bedroom a little higher.
energetic delivery
Other artistes to look out for include Di Govanah whose song,Take a Good Look Around is a reality song which will certainly remind most people on how important it is to live life in the right path and to not go astray while Jah Rain touches a nerve with the Lift Me Up, a brilliantly, conceived conscious song. Jah Rain's energetic delivery about his faith and the support he gets from the most high in his every day life is truly inspiring.
Two ofGuadeloupe's most talented artistes Tiwony and Misye Sadik collaborate on the song Awete Plewe Penn, which will be a universal crowd pleaser whether you understand French or not. The melodies alone will captivate your ears.Another French artiste appearing on the selection isSir Samuel(formerly from Saian Supa Crew) who features with young Swiss artiste, Messager,on the amazing track Sans répit.
Last but far from least, one of Haiti's most talented artistes, Rebel Layonn, lays down Rejwi – a captivating love song in his native Créole – talking about the joy and happiness of being in a relationship and love.
As you must have realised by now, this album is a love-filled album, with a selection of some of the best talents in the local and international industry.
The production house's previous release was Cali P's album, Unstoppable, which entered the iTunes Reggae Top 10 charts in US, Canada and Switzerland. This is yet another winner for Hemp Higher Productions.