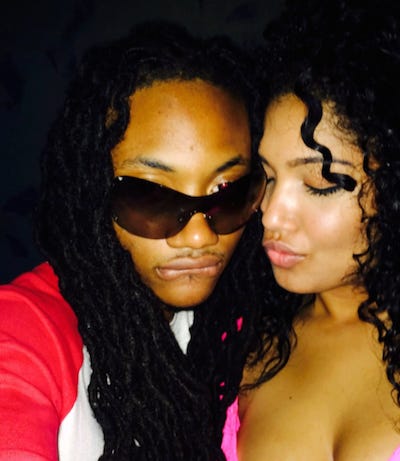 Dancehall singjay Yanni Cassanova will be heading to Jamaica to promote the video for his latest single, 'Nostra Girls'. He will arrive in October and will be doing a press junket and promotional run at the street dances in the Corporate Area
Yanni got himself into a bit of a legal entanglement as he was caught in a bit of 'dirty dancing' with two girls in the back his SUV after a wild night of partying at a club in the Bronx two weekends ago.
The artiste was reportedly in the parking lot of a strip mall indulging in a bit of 'auto-erotica' with two Latino girls when a white woman, outraged at what was happening, tried to cease the sexual activity as she saw the van rocking in a way suggestive of some sort of frenzied activity. She told the passionate threesome she had dialled 911, but by the time they hastily tried to get their clothes back on, the police had already arrived.
A police SUV, with its roof rack of blue lights spinning silently, pulled up behind the SUV. An officer got out to investigate and lo and behold, discovered that the dancehall artiste was in a compromising position with two girls in the back of the heavily-tinted SUV. He was ordered – shirtless – to step out of the car but a crowd quickly gathered, including a photographer, and girls with their camera phones. The singer was eventually detained by cops. 
BOUNCE876.com got wind of the story after mugshot photos and a short video emerged on the Internet last weekend of a shirtless deejay being accosted by two cops. Efforts to get in contact with the artiste who is known for the single, 'Nostra Girls', proved futile. 
In most states, the laws that criminalize public sex make it a misdemeanour crime. Some state laws explicitly criminalize public sexual activity. Lewd acts are typically defined by the standards of the state in which they are enacted. In some states, when it comes to "sex in a car", if you are parked in a secluded area at night and not in the pathway of pedestrians who could easily see inside your vehicle, you may be able to argue that you were not "in public."
Yanni dodged a major bullet because the mishap took place in New York or he may have been charged with a serious crime that attracts a one year prison sentence. Checks with an attorney-at-law who practises in New York revealed that Yanni's little 'vehicular menage a trois' was bit of harmless fun. 
"It is really a misdemeanour in New York. In fact, in 1991, a New York court ruled that sex in a car was not sex in a public place unless the act could be readily seen by passers-by. (People v. McNamara, 585 N.E.2nd 788). So, it really depends on whether your state views the interior of a car as a public or private space, and what the circumstances are of your "parking" are," the lawyer said.