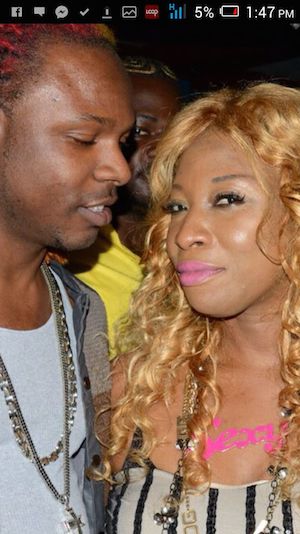 Dancehall artiste 
Masta
Bling
 and dancehall superstar Macka Diamond soared to #5 on the FIWI Choice top ten chart with 'Mi Want Yu'. The song is getting a lot of rotation at the local street dances in the Kingston Metropolitan area.
The single jumped six places into the FIWI Choice Top ten music countdown this week, jumping to #5
"The song ah get some crazy pull up inna the dance, some gal a run out pon the dance, people ah put up videos on Instagram, the selectors ah work with it, and now we ah go shoot the video soon for 'Mi Want Yu'," she said. 
Masta
Bling
 has been promoting the song aggressively in Montego Bay.
"People ah tek on to the dance, people ah dance to it and is not our dancers dem a do it. It ah play all bout inna the parties in Mobay, Flankers, go-go clubs have it, Krazy Kris, Dexta Peppa have it as well, the ting ah slap weh…mi have a bunch of girls who ah advertise it right now," 
Masta
Bling
 said. 
In the Corporate Area, Sigar and Teacha have been rotating it at Uptown Mondays.
"Cupid at Palais Royale ah give it a strength. At Boasy Tuesdays and Nipples Tuesday, Harry Hype endorse it, plus yu dun know Weddy Weddy and Gallis Wednesdays ah push it as well, straight shellings!" an enthusiastic 
Masta
Bling
 added.
"The girls dem a run out pon it, dem love the chemistry between me and Macka, and the money topic, ah that the girls dem love," 
Masta
Bling
 said. 
He plans to shoot a video next week based on the feedback in countries such as Panama, Canada, Guyana, Zimbabwe and Costa Rica.
In the meantime, Macka Diamond has been kicking up a storm on the street dance circuit with her breakout radio hit, 'Mosquita One' for producer Troyton. 
"The girls dem a run out pon it and the disc jockeys from IRIE and ZIP love it. Dem say Macka Diamond find it again, 'Mosquita One' ah do hard.  It's  a great look, it ah create pandemonium, on Wednesday night, mi see a vendor drop her cigarettes dem and dash weh everything and run out and take the dance floor," Macka Diamond said.