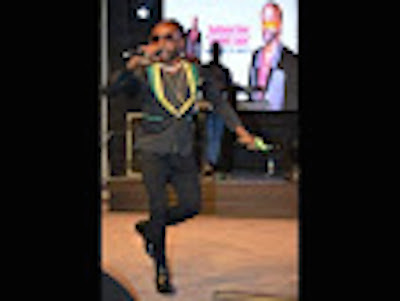 Loaded Eagle, a gifted stage performer, walked away 'loaded' after this year's Festival Song finals, sweeping most of the sectional prizes, and the top prize, eventually soaring away with over $2.6 million in total prize money.
Loaded Eagle rocked the packed venue with a high-energy performance where he worked every square inch of the stage, and even performed an unexpected split in the middle of his set. These antics ignited the crowd as he delivered 'Big Up Jamaica' to wild cheers, screams and the cacophony of vuvuzelas spanking the night air.
He won Best Vocalist ($300,000), Best Performer ($300,000), and $1 million each for being the singer and writer of the winning song – a princely haul of $2.6 million.
Talented singer Ally Bless placed second with 'Queen Jamaica', taking home $450,000, while crowd favourite Jay Smith placed third, earning $250,000 with 'Embassy Appointment', while also grabbing the sectional prize of $300,000 for Most Popular Social media song. The 'Embassy Appointment' song racked up 86,719 views and 3,765 likes.
Loaded Eagle grew up in the community of Steer Town in St. Ann where he attended Steer Town Basic and All Age schools before matriculating to Marcus Garvey High school. He played football while at school but he admitted that because of his "troublesome hyperactive" nature, he wasn't allowed to make the team for academic and behavioural reasons.
When he left high school, he joined a dance group called the Cosby Kids and in 1998, they won the best popular dance skit in the JCDC dance competition. Afterwards, he teamed up with a dancehall group called SLR which featured two other artistes, but the group failed to make an impact despite being invited to record with stalwarts such as King Jammys and producer Robert Livingston.
But now, he has found success as the 2019 Festival Song winner.