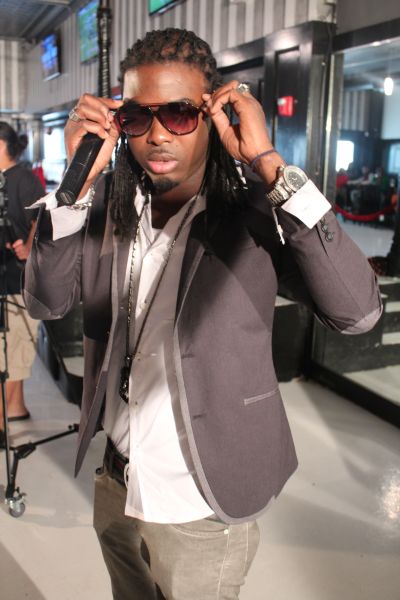 NS Music Enterprises recording artiste Frassman Brilliant has earned major props for his high-energy cameo on Nikki Z's 'Weed Head' remix featuring dancehall superstars Vybz Kartel, Elephant Man, Aidonia, and vocal appearances by Collie Buddz, Bob Marley and Peter Tosh.
The official Nikki Z remix has quickly become a favourite on Internet radio stations along the east coast.
"I was already a big fan of the track "Weed Smokers" by Vybz Kartel, but the song was an almost an instant fit with another song I have called 'Weedhead'. I loved the idea of combining them and we got together with Faceboyt at NS Music Enterprise studios to put the plan to action. Nuff respect to Nikki Z," Frassman said.
Frassman is also building up a solid reputation in the dancehall sound system circuit. The deejay's 'Dat Nuh Hard Fi Do' was featured as a dubplate by Jack Scorpio during a clash between Scorpio and King Jammys at the United Banquet Hall in Hartford, CT on April 20, and the dub got a huge forward.
"The dub mash up the place. The song ah gwaan good too as it a maintain a steady growth on Nikki Z's Hot 20 Countdown," Frassman said.
Over the past month, Frassman has been involved in a number of radio broadcasts all over the Caribbean. He has made appearances on radio stations in the Virgin Island, St Maarten, Turks & Caicos, Kenya (Africa) as well as Caribbean stations based in USA. He has also done work on multiple online stations such as BigUpRadio.com, RadioWestIndies, StreetFixRadio.com, and many more.
"We are getting tremendous feedback from Africa and UK as well as DJ's right here in the US like Bobby Konders & Jabba (Hot 97), DJ Norie & DJ Suss One (Power 104.1) NY, DJ Chubby Chub (Jam'n 94.5) Boston, as well as getting great play on my station Hot 93.7 in Connecticut. The support worldwide has been great since we dropped the track, and I believe in timing, and the timing was perfect," Frassman said.
He is now working on his next mix CD which will drop Memorial Weekend.
"I am also gearing up to host a new television show for the Fox Network called "That Life", a show based mainly on dancing but also focuses on lifestyles, fashion, trends, electronics, celebrities and more," Frassman said.
The General Daddy Biggs of Platinum Camp fame is spearheading Frassman's promotional push in the United States.