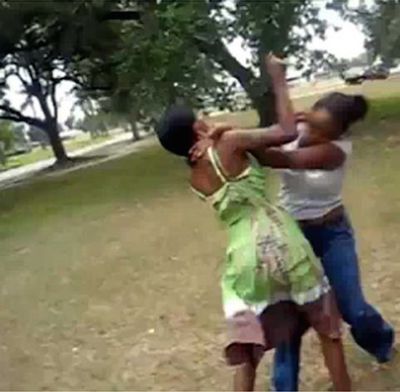 "Yes your honour I'm guilty for the offensive weapon and is because she came in and destruct my friend house why I attacked," came the explanation of Chevanne Fowler when she appeared in a cross case in the Spanish Town RM Court on Tuesday, July 7, 2015.
Her poor use of grammar drew titters of amusement from the court staff. 
Fowler, who was armed with a compass, is alleged to have stabbed Paula Forknor who was armed with a knife.
"Your honour yes I had a knife so I'm guilty but is because I was cooking in the kitchen when she attack me so I draw for the knife to defend myself," Forknor explained. 

They were each fined $3000 or 10 days for an offensive weapon, $1000 or 10 days for disorderly conduct while Forknor pleaded not guilty to unlawful wounding and will attend the Night Court in Greater Portmore for trial on November 20, 2015.
Hours later the case was again mentioned when Fowler who was still at the courthouse lock-up decided to behave boisterously and was then charged for disorderly conduct.