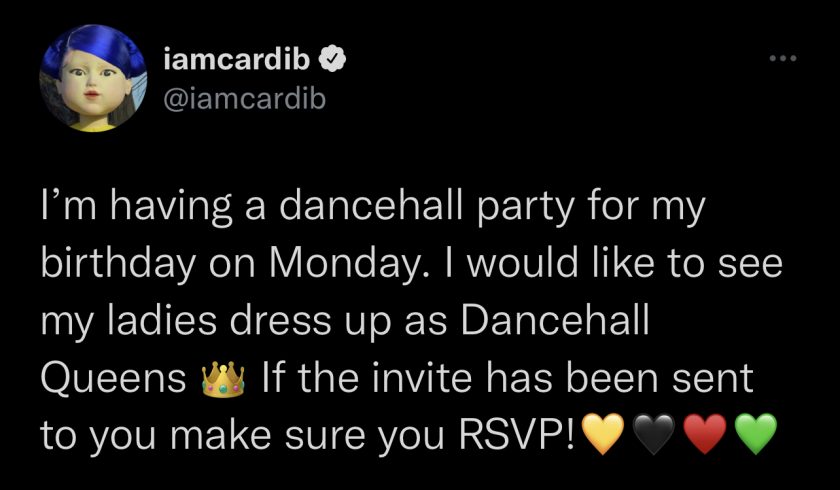 Last night, Cardi B celebrated her 29th birthday in true 90's dancehall fashion with a party in LA. The Dominican rapper who was born and raised in New York always deeply supported the genre of music and once acknowledged Vybz Kartel as one of her favorite musicians.
Many celebrities were in attendance including Winnie Harlow, Shenseea, Meg the Stallion, Normani, Karrueche, Markie Markland, Bobby Lytes, Jason Lee and Ella Mai. Guest performances were from Creep Chromatic, Kranium, Ding Dong Ravers, the king of dance and Spice, the Queen of Dancehall. Ding Dong thanked Cardi for bringing dancehall to LA and Spice described on Instagram that Cardi's party was a "bloodclaat movie" and that she handled her booking very professionally.
A clip of one of Spice's dancers, Tahirew has gone viral with her dancing aggressively on the rapper Quavo. Instagram users commented mixed feelings about the situation but all agreed that it was a hilarious situation. One user said "he not ready for us Jamaican girls", another said "she a rough one ain't she", two more users claimed "Quavo neva ready" and "he looking like this shit kinda hurt bruh said hold the shades".
Spice also put the infamous Meg's knees to the test by challenging her to dance to her single "Go Dung Deh". Meg the Stallion accepted the challenge and showed Spice the hype behind her knees.
Jamaican social media personality, Markie Markland confirmed that the party was a movie and he could not keep up with dancing. He also stated "no tea, no shade, Jamaica is a big deal. I don't give a fuck what y'all say Jamaica is a big deal because I've watched our culture being embedded in every single body's culture. Like Jamaica is that girl."
Cardi shared with her millions of followers, the house in the Dominican Republic that Offset gifted her on her birthday and stated that she appreciated that he listened to her about investing in real estate in the Caribbean for short term rentals. The house boasts 6 bedrooms, 7.5 bathrooms and 1 separate studio.