This past weekend, Buju Banton's daughter and Jamaican model, Abihail Myrie took to twitter to voice her opinions about CVM demanding their unvaccinated workers to submit a COVID test result every Monday. She disagreed with the tv station for threatening to cut their workers' wages if they failed to follow new protocols.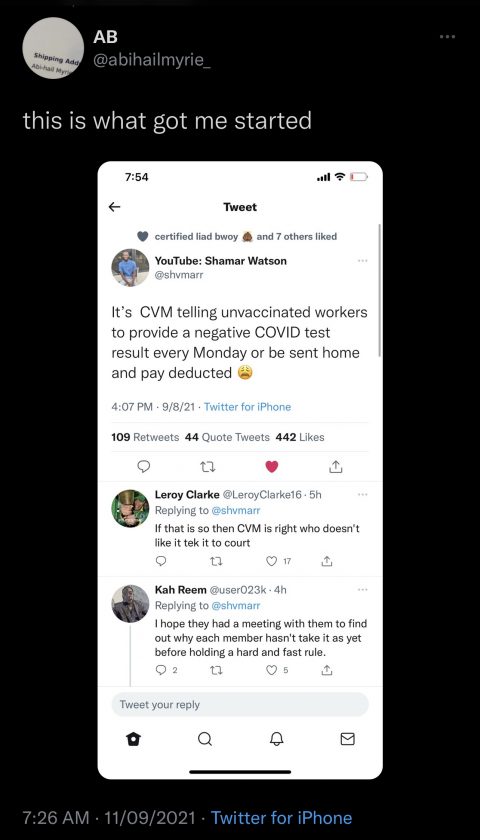 She stated "trick u mada bout cut pay. U must sick inna u head" and that she is her father's child and will use her platform to say whatever she wants after she viciously responded to a few individuals on the app. She further mentioned that she is neither a pro-vaxxer or antivaxxer, she loves everyone, and it is wrong to chastise people on their stance to not take the vaccine for the decision is theirs to make.
Myrie, then quoted a subtweet made by her brother's ex-girlfriend and expressed that her reason for contempt towards her was that they never became sisters because her brother ignored her. The ex-girlfriend responded "and your bro just gave me 50K towards my surgery. Ignore whomst? A one fact this u nave straight. Eediat." She later called out Abihail for apologizing today and mentioning that she loves her supporters after saying the day before that she has hated everyone for ages.
Abihail then went on a rant about the hypocrisy of some twitter users who have attacked her with drug slurs but claim to be advocates of mental health and drug abuse. She voiced "everyday unu get up and a call me coke head dis coke head dat buju dis buju dat. Uno fuck off." Later, one twitter user asked Myrie "ok but how was the coke?" and she clap backed with "good. Maybe u should come sniff some out my ass." Myrie received backlash from users due to her distasteful responses on twitter.